Above the village of Wroughton, near Swindon, there lies a very big secret. On a plateau above the village is a disused World war 2 airfield. On the site there are 7 aircraft hangers and a purpose-built storehouse, obscured from the road by trees. To the outside eye it just seems like a forgotten brownfield site that will soon be turned into a housing estate or some use found for it. However, the airfield holds a secret. Inside the Hangars on racks of what looks like garage shelving are Transatlantic Planes, Cars, Computers, Motorbikes and pedal bikes, even a Nuclear missile! Further in there is a library with all sorts of books and old texts written about science. Why is this all here?
The Wroughton Airlfied is the London Science Museums storage facility. Anything that the Museum wants or may need for an exhibition is stored in the Hangers. It contains some of the most precious examples of our Scientific and industrial heritage. For the most part it's neatly stored and if you need a bit of storage then just check out this website https://www.garage-shelving.co.uk/ for a bit more info as to the types the science Museum uses,
There are 3 types of Hangar. First there is the C hangar so called because it's a just semi-circle. Next there is the D hangars. These are named for their roof shape and high wide door. Finally, there are the L Hangars so named because there slanting roofs resemble a series of L's. The A Hangar is a purpose-built construction as it contains some of the most delicate pieces and needs a protective environment. It's not possible to go through every item but we can look at the highlights here,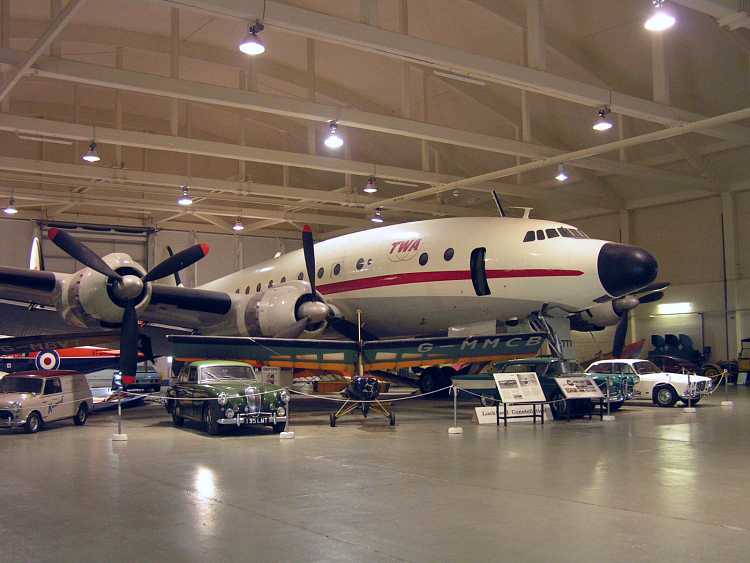 The 3 C hangars contain,amongst other things, the first VW Beetle recovered after the 2nd World War from German, A Bullet proof Russian Diplomats car, lots of radioactive dials that only specialists can see. At least 15 petrol trams and electric trolley buses plus Agricultural equipment and an ornately decorated Horse and Trap. The most amazing item is an entire Fleet Street printing press which can barely fit. In the D Hangars there are rows and rows of Motorbikes through the ages like Matchless and Indian. There are examples of Penny farthings, Victorian velocipedes and a huge Boeing used by the Rolling Stones. There is an old Tristar , a Blue streak and Polaris missile,  an Antarctic tracked exploring vehicle plus mini subs from a James Bond film. In the A hangar there are old TV sets, 2nd and 3rd generation Computers, a Sinclair C5 and an Apothecary's cauldron.
Why is this not on display? To start with it's too big to fit in the Science Museum but there are occasional Heritage open days in September. Several attempts at securing funding have been attempted to open the displays to no avail. Another bid has been accepted so we may see this pieces properly soon.